We offer a Private Pet Rehoming Service for owners looking to rehome their pets without the pet entering the shelter system.
As a responsible pet owner, you can
rehome your pet yourself
and save them the stress of entering an animal shelter. You know your pet better than anyone, and you can find a new loving home for your pet with the resources on this page. We encourage you to look into alternative solutions to keep your pet, if possible, before making the decision to rehome them. We offer this service as a courtesy and best option before surrendering your pet through our
Admissions Department.
Private Rehoming Process. Read more about How to Rehome Your Pet at the bottom of this page.
Complete the Pet Profile Form and provide information about your pet for potential adopters to view through our website. All pet profiles will be reviewed by the Utah Humane Society before posting publicly. We may contact you if we have any questions or concerns.
Potential adopters will contact you directly. You can provide all information about your pet, set up meet-and-greets, and decide who will provide the best new home for your pet. Read more about How to Rehome Your Pet at the bottom of this page.
Update the Utah Humane Society if your animal finds a new home, or if you are able to keep him/her. Your post will remain on our site for 30 days. It is your responsibility to update us regarding the status of your listing. You can call our Admissions Dept at (801) 261-2919 ext. 214 or email admissions@utahhumane.org. Please let us know if you find a new home for your pet, keep your pet, or need to surrender them to us after 30 days.
The Humane Society of Utah makes no guarantees on and takes no responsibility for the temperament, health, or suitability of the companion animal rehomed through this courtesy service. 
By filling out this form, I understand and agree to the following terms:
I am adding my pet to the Pet Rehoming Online Service through the Utah Humane Society. All listings will be reviewed and posted within 24 to 72 hours.
My pet is spayed/neutered. All dogs, cats, and rabbits must be spayed or neutered before posting. Please contact our Clinic if you need to spay or neuter your pet.
I understand that my contact information will be listed in this posting, including email address and phone number. Some of the questions below are for internal use only and will not be posted publicly on the pet's profile listing.
I agree to hold harmless the Utah Humane Society for any legal or financial liability arising from potential behavioral or medical issues with the listed animal. 
Click HERE
 to view animals available for 
private rehoming directly from their homes.
---
Find additional resources for common pet ownership issues below or contact the Admissions Department for a free consultation.
* The inclusion of a service, organization, or program in this listing is not an endorsement or recommendation. We are not able to guarantee the quality of these services and strongly suggest that you check them out yourself before using a specific service.
Additional Pet Rehoming Sites
In addition to listing your pet on the Utah Humane Society Private Pet Rehoming Site, check out these other options.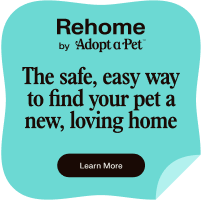 This website, founded by Adopt-a-Pet.com and the Petco Foundation, allows you to rehome your pet with peace of mind. You can create a profile for your pet, review applications of potential adopters, screen and meet adopters, and finalize the adoption with Adopt-a-Pet's personalized adoption agreement. Your pet can go straight to a new home without experiencing the stressful shelter environment.
Home To Home
- Home To Home™ is an interactive website created to help shelters and rescues. It provides a positive and proactive method to rehome pets as well as provide support to pet owners in their time of need, when keeping a pet is no longer an option.
Home-to-Home - 
A Good Sam Animal Rescue program. Home-to-Home helps pet owners keep pets in their homes until a loving adopter is found, reducing the stress of the rehoming experience. They offer a full range of services to support you and your pet during what is often an emotional process. 
This website helps to reduce the stress of the rehoming experience. Adopters can obtain their new companions directly from the owner, ensuring that the pet never has to see the inside of a shelter. 
***PLEASE NOTE, WE ARE UNAWARE OF ANY ORGANIZATION THAT ACCEPTS OWNER SURRENDERS WITHOUT PRIOR ARRANGEMENTS***
A New Beginning Animal Rescue
Phone: (801) 916-3924
This organization has limited admissions. To make an appointment and to receive a copy of the Surrender Contract and Incoming Pet Profile, email
adoptions@anbrescue.org
.
Rescue Rovers
Phone: (435) 565-4031
Dog rescue that will take owner surrenders. You must fill out an owner surrender application online. You should receive a response from the Rescue Rover team within a week. Keep in mind it can take up to a couple weeks for a foster home to be made available for your dog.
Because Animals Matter (Hurricane, UT)
Phone: (435) 773-5209
This organization has limited admissions. BAM may ask you to continue housing your pet until an adoptive home is found. This can reduce the stress of the rehoming experience.
Bulldog Club of Utah Rescue
Phone: 801-750-0587
This organization will only take English or British Bulldogs.
Herding Haven
This organization accepts herding breeds from the public on a case by case basis.
How to Rehome Your Pet
Finding a new home for your pet will likely take time, patience, and effort. However, it will be significantly less stressful for the pet to stay out of the unfamiliar surroundings of the shelter, where anxiety and fear are natural reactions that make adoption more challenging. No one knows your pet better than you, and best of all, you will be able to choose your pet's new home.
Getting the Word Out
Take several good-quality digital photos of your pet. Make sure your pet is well-groomed, can be seen clearly in the pictures (try to avoid clutter in the background), and is looking directly at the camera. People connect more emotionally with photos where the subject is looking directly at them. If you are using a cell phone camera, be sure you don't zoom in, get close to your pet instead. Zooming in creates lower resolution photos that may end up being fuzzy if you try to print them or enlarge them.
Compose an ad that describes your pet's personality, habits, and some of the little things that make him or her special. Include your pet's age, weight, and sex. Include any disabilities, health issues, or behavior quirks. Believe it or not, sometimes these are the things that potential adopters respond to. *For tips on how to write an appealing ad, read How to Write Animal Adoptable Pet Bios. [LINK: https://bestfriends.org/resources/pet-profiles-how-write-adoptable-anima...
Post your adoptable pet online through the Utah Humane Society and additional recommended sites. 
Additional Advertising
Create an eye-catching flyer using a free website such as canva.com. Share your flyer via email to friends, family, and local rescue groups. Print hard copies and post them throughout the community. Veterinary clinics, grooming salons, health food stores, churches, and coffee shops are just a few examples of potential places to post your flyer. Always ask the manager of the business for permission to post your flyer and where to post it.
If your pet is a dog, take him out and about. The more opportunities the dog has to interact with people, the more chances you have of finding your pet a home. Take him on walks, to pet supply and other stores that allow dogs, to the local park, and dog-friendly restaurants and coffee shops. "Adopt me" leashes, collars, bandanas, and vests are all available on Amazon.
Reviewing Applicants
Once you get some interest in the pet, you will want to call the prospective adopter and discuss your pet with them over the phone. You'll want to ask the potential adopter some questions before introducing them to the pet.
The following are some questions you can use to help guide your discussion and learn about the prospective adopter to determine whether you think they would be a good fit for your pet. You'll want to keep the interview conversational.
• Have you had pets before? What happened to them?
• Do you have other pets now? Tell me about them.
• Can you describe a typical day in the life of your pet?
• Do you have children? How old are they?
• Do you live in a house or an apartment?
• Do you rent or own the home?
• Does your lease allow pets? Are there restrictions?
• How many hours would the animal be alone during a typical weekday?
• Where will your pet stay when home alone during the day?
• Do you have a pet door?
• Where will your pet stay/sleep at night?
For dogs:
• Does your home have a completely fenced yard?
• Will the dog get regular exercise?
For cats:
• Will the cat be an indoor or outdoor cat?
• Would you consider declawing a cat?
• Can I come to your home to see where the animal will be living?
Meeting
Your next step would be to schedule a meet-and-greet either at your home, their home, or on neutral ground, such as a pet supply store, park, or vet's office. If possible, it's best to visit the prospective home to see where your pet will be living. (If the potential adopters have another dog and you are placing a dog, a park setting could be a good place to arrange the first meeting.) If going to their home, we suggest you take a friend or relative along for your safety. Wherever the meeting takes place, observe carefully how they relate to your pet, and how your pet relates to them. In any case, trust your instincts. If there are any doubts about the "fit" you can either talk to them about it or decide not to adopt them. Don't feel uncomfortable about having doubts—it's fine to be concerned about your pet's well-being, and any reasonable person understands this. To make a graceful exit without confrontation, you could mention that there are other people interested in seeing the pet and that you will get back to them.
What to Take with You
Take your pet's bed, toys, food, medicines, etc., as well as a copy of his medical records in case you feel very comfortable with the applicant and the meet-and-greet turns into an adoption. And make sure your pet has proper identification on his collar, including a rabies tag, an ID tag with your information, and a microchip tag (if your pet is microchipped). In case you end up doing an adoption that day, he'll need to be wearing proper identification, just in case he should run away from his new home. You should ask the adopter to keep proper identification on the pet at all times, especially until he feels very secure with his new family. Again, if you feel the applicant may not be the right match for your pet during the meet-and-greet, you and your pet can return home, and you can give it some more thought. Then contact the applicant and let them know your decision.
Proceeding with the Rehoming
Offer the adopter a trial period of three weeks to ensure the placement is a good match for both your pet and the new family. Tell them that if for any reason, they can longer keep the pet, they should notify you and return the pet to you. Remember to give the adopter your pet's bed, food, medicines, medical records, and favorite toys. These items help make your pet feel more comfortable during the transition.
Post-Adoption Follow-Up
After the adoption, check in with your pet's new family after about 48 hours, and then weekly for three weeks to get updates on how your pet is coping in his new home environment and how his new family is doing with him. Ask them to call or email you with an update from time to time, and you may ask for photos. Remember, your pet is counting on you to provide him the best home possible, whether that is with you or with someone else. When you are sure your pet has been successfully rehomed, please remember to log into any websites or accounts where you had posted your pet's profile and remove it. Contact the Utah Humane Society Admissions Department to have your online listing removed from our website.
Thank you for being a responsible pet guardian and helping your pet transition easily from your home to a new home!